Symposium on Great Lakes Basin, Keynote by Dr. Wayne Roberts
Date:
Thursday, April 14, 2016
Location:
Talbot College (TC)
Room: 138

Export: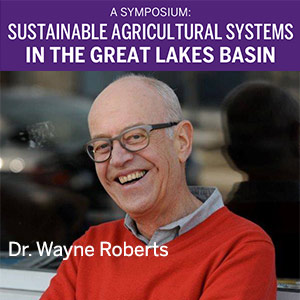 Dr. Wayne Roberts is coming to Western to speak about Canadian food policy and security. Dr. Roberts is a Canadian food policy analyst and writer, widely respected for his role as the manager of the Toronto Food Policy Council, a citizen body of 30 food activists and experts that is widely recognized for its innovative approach to food security, from 2000-2010. Dr. Wayne Roberts has written seven books, including Get A Life! (1995), a manual on green economics, and Real Food For A Change (1999), which promotes a food system based on the four ingredients of health, joy, justice and nature, and The No-Nonsense Guide to World Food (2008). He is an expert on strategies that combine food security, community empowerment, environmental improvement, social equity and job creation. NOW Magazine named Roberts one of Toronto's leading visionaries of the past 20 years. The keynote will be followed by a panel Q&A session on sustainable agricultural systems.
All are welcome.