BJI Seminar Series 2017-18:Trainee Opportunties Workshop
Date:
Tuesday, March 20, 2018
Time:
10:00 am - 11:30 am
Location:
London Health Sciences Centre (LHSC) - University Campus
Room: Aud A
London
Export: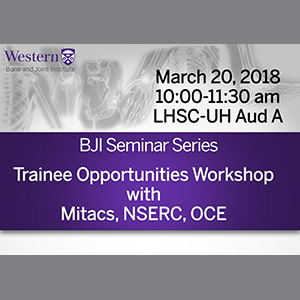 Trainee Opportunities Workshop
Are you looking to secure funding for your graduate, or post-doctoral studies? Or, are you looking for experiential or international learning opportunities, and industry-relevant experience? This session will introduce relevant opportunities from Mitacs, NSERC, and OCE with the aim to help trainees decide which program is right for them, according to experience (grad student, PDF, etc), academic background, and research interests! Hear tips from your local representatives on who should apply to these programs, how to access them, what makes a strong application, and how to target industry/community partners!
Presenters:
Erin Azzopardi, Ph.D. Business Development Specialist, Mitacs
Sarah O'Neill, Research Partnerships Promotions Officer, NSERC
Jeff van Heumen, Ph.D. Business Development Manager, OCE
Tuesday March 20
10:00-11:30am
LHSC Aud A