Public Art & Publishing: Zine Creation
Date:
Saturday, September 9, 2023
Location:
Somerville House (SH)
Great Hall

Export: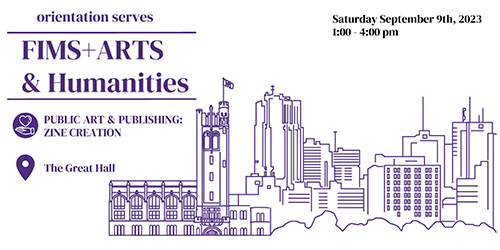 WHAT: BRING YOUR FRIENDS, ROOMMATES, AND FLOORMATES TO MAKE A COMMUNITY O-WEEK ZINE!
WHEN: 9TH SEPTEMBER, 1:00 PM – 4:00 PM
WHERE: THE GREAT HALL
HOW: BRING YOUR LAPTOP, BRING ANY FOUND MATERIALS THAT YOU HAVE PICKED UP ALONG YOUR O-WEEK JOURNEY
Would you like to become a published creator by the end of your first week at Western? Want to learn more about the rich history of zines (from "fanzine" or "magazine") and make your own in collaboration with other first-year students across the disciplines? Would you like to learn more about the London arts and culture scene from local artists and faculty members in your community?
On Saturday, September 9th, the Faculty of Arts & Humanities and the Faculty of Information and Media Studies are teaming up to host our first ever zine-making workshop, "The OServes Community Zine Project," featuring an exciting lineup of guests: local musician and zine artist Jillian Clair; London artist and cartoonist Jacqueline Demendeev; author and local bookseller Jason Dickson; FIMS faculty member Tim Blackmore; student writer-in-residence Gray Brogden; and the Words Festival Artistic Director Josh Lambier.
The Orientation Serves Community Zine Project will offer you the opportunity to reflect on your first experience of Western and connect with other students who have an interest in creativity, the arts, and community. Our zine-making session is for beginners, so you do not need any previous experience making zines. This event is for everyone! All you need to do is bring your laptop or smartphone, bring any material you have collected from your Orientation Week experience (e.g., programs, brochures, handouts, pictures, tweets, video, texts, and more), and bring your O-Week memories!
Zines are often short, DIY ("Do it yourself"), self-published books or magazines. They often have an organizing theme, involve collaborative practice with other creators, and include a multimedia collage of images and writing. The OServes Zine will have the theme of "community," will capture your experiences of Western and London during O-Week, and will collect your contributions to create a collaborative zine!