Ziya Tong Keynote, Networking Lunch & TGAL Research Forum
Date:
Tuesday, June 6, 2023
Location:
Thames Hall (TH)
Room: Atrium

Export: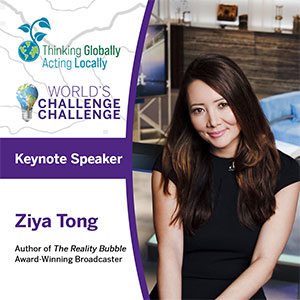 Register now to join us for this exciting Keynote, Networking Lunch & TGAL Research Forum on June 6, featuring Ziya Tong, author of The Reality Bubble and award-winning broadcaster. 
Award-winning host Ziya Tong has been sharing her passion for science, nature and technology for almost two decades. Best known as the co-host of Daily Planet, Discovery Canada's flagship science program, she brings a wealth of knowledge, experience, and enthusiasm to the stage. Tong will speak on leadership, how to shift perspective, and the role of science and technology in society. 
This event is being co-hosted by the organizing teams for Western's School of Graduate and Postdoctoral Studies' Thinking Globally, Acting Locally (TGAL) program as part of its Research Forum and Western International's World's Challenge Challenge initiative. 
Networking Lunch & TGAL Research Forum
Following the keynote, attendees are invited to stay for a networking lunch and the TGAL Research Forum. The forum will showcase the TGAL student teams' ideas on tackling sustainability issues ranging from good health and well-being, climate action, and life on land, to sustainable cities and communities in the London community.
Don't miss the opportunity to hear from Ziya Tong, connect with other globally minded attendees and learn about possibilities to create positive change in the world.  
Please note the deadline to register for the in-person keynote and lunch is May 26.
Event Type: