Rick Hill: How the Foundations of Haudenosaunee Aesthetics..
Date:
Wednesday, September 21, 2022
Location:
John Labatt Visual Arts Centre (VAC)
In-person and live-streamed on Zoom
Room: 137E

Export: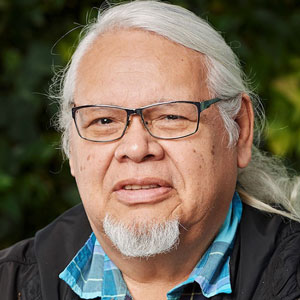 Western University's Faculty of Arts and Humanities, Department of Visual Arts is pleased to present a talk by Rick Hill titled How the Foundations of Haudenosaunee Aesthetics Survived Colonization.
The Haudenosaunee ('People of the Longhouse,' more commonly known as the Six Nations) have been, and continue to be, a very creative and adaptive society in order to survive the onslaught of the colonizing tidal wave. Through an ingenious use of natural materials, traditional designs and manufactured art materials, Haudenosaunee artists have created an enduring legacy of what it means to be Haudenosaunee through the centuries.
Rick Hill's presentation will explore the pragmatic and philosophical function of art among the Seneca, Cayuga, Onondaga, Oneida, Mohawk and Tuscarora peoples through time, decoding recurring symbols and metaphors on contemporary Haudenosaunee art. We will see how artists use art as a form of their personal cultural therapy, to reconnect to their ancestors; and as an individual effort to expand the aesthetic realties of their collective consciousness.
Rick Hill is a citizen of the Tuscarora Nation, residing on the Grand River Territory of the Six Nations. Graduating from School of the Art Institute in Chicago and SUNY Buffalo, Rick Hill has worked as Museum Director for the Native American Centre for the Living Arts in Niagara Falls, NY; Manager for the Indian Art Centre in Ottawa; Museum Director at the Institute of American Indian Arts, Santa Fe, NM; and as Assistant Director for Public Programs, National Museum of the American Indian, Washington, DC.
--
This presentation was organized by Kelly Greene, current Indigenous Artist-In-Residence in the Department of Visual Arts and is held in partnership with the Faculty of Arts and Humanities, Office of Indigenous Initiatives, and Faculty of Social Sciences at Western University.
Guests may attend the presentation in-person in the Visual Arts Centre Live-Stream Lab (Room 137E) or join in the live-stream over Zoom. Please note that Zoom registration is required prior to the event.