MFA Thesis Exhibition - Matthew Trueman | Artlab Gallery
Date:
Thursday, May 17, 2018
Location:
John Labatt Visual Arts Centre (VAC)

Export: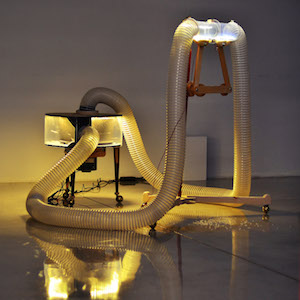 Matthew Trueman : Slower Than Time Itself | Artlab
May 17th - 30th , 2018

Opening Reception: Thursday May 17th from 6-8:00 pm
The clock's influence is inseparable from contemporary life – not only does it synchronize individual circadian rhythms but it also produces the stable temporal foundation for both scientific tradition and capitalism to flourish. However, there is a significant gap between what is measured by clocks and what is perceived by the individual. The perceived acceleration of time in contemporary life leaves us with a feeling of being continually deprived of this precious resource. While many technologies promise to help us get-time-back, they only entangle us further in their construction. Scientific time, duration measured by clocks, is regarded as immutable, indefatigable, and infallible – the opposite of the humans it ostensibly serves. Slower Than Time Itself uses the syncopated rhythms and unquantifiable output of mechanical clocks to suggest a slowing and plurality to the current monoculture of time, more sympathetic to the human condition and timescapes outside of human perception. Trueman's sculptural and video works explore the idea of slowness as a gateway to multiplicity and ponders whether it is possible to use a clock to escape time itself.

Artist Biography

After studying mechanical engineering at Fanshawe, Trueman completed his undergraduate degree in fine arts at Western University where he is currently a Master of Fine Art candidate. He will be completing a clock installation at I-Park Residency (East Haddam, Connecticut) this summer, and will be exhibiting at PLUS Art Fair 2018 (Toronto). His first publication So Long South Street, a photographic series showing the demolition of famed South Street Hospital, was launched earlier in 2018. His work has been shown at Museum London, McMaster Museum of Art (Hamilton), Thames Art Gallery (Chatham), and DNA Art Space (London).