Mina Moosvipour: Emphatic Tension | McIntosh Gallery
Date:
Friday, August 5, 2016
Location:
McIntosh Gallery (MG)

Export: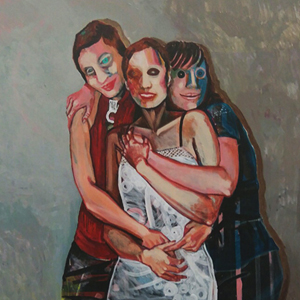 MFA Thesis Exhibition | Mina Moosvipour: Emphatic Tension | McIntosh Gallery
August 5 – September 10, 2016

Closing reception: Friday, September 9th at 7PM
Mina Moosvipour's work stems from an interest in the representation of personal and psychological issues. Her recent body of figurative painting investigates a pictorial record of both inward and outward manifestations of human psychological characteristics, exploring the way mundane activities are sparked by inner motivations.
Her paintings portray environments made up of seemingly generic representations of personal relationships, punctuated by simultaneous contradictions in the situations. In these highly coloured pictures, she has attempted to signify the continuity between intimacy, enmity, happiness, and absurdity in images of people in everyday settings. Her ultimate aim is to draw attention to the interplay between individual and collective memory and experience, in light of the social constructiveness of situations.
Mina Moosvipour received her BA in Painting from Sooreh University, Iran (2004) and a MA in Illustration from Tehran University of Art (2008). She is currently an MFA candidate at Western University, London Ontario.
Emphatic Tension is organized by McIntosh Gallery in collaboration with Western University's Department of Visual Arts MFA program. We acknowledge with gratitude the financial support of the Social Sciences and Humanities Research Council of Canada, the Canada Council for the Arts and the Ontario Arts Council.