Reception for Jason Stovall: Thin Skin | McIntosh Gallery
Date:
Friday, September 9, 2016
Location:
McIntosh Gallery (MG)

Export: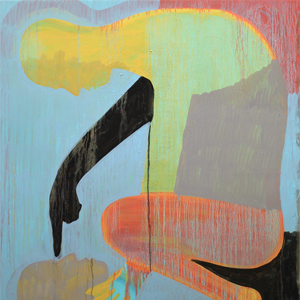 MFA Thesis Exhibition
Jason Stovall: Thin Skin | McIntosh Gallery
August 5 – September 10, 2016
Closing reception: Friday, September 9th at 7PM
The work of Jason Stovall explores the psychological underpinnings of how different people relate to one another. Stovall's formative years were spent in Fort McMurray, a Canadian city located in northern Alberta, with a disproportionately high ratio of transient male workers employed by the oil sands corporations. His experience of growing up queer in this environment is where his research unknowingly began.
As he struggled to understand his own gay identity his early life experience helped to construct a sensitivity towards the intersections of sexuality, gender and visual culture.
Utilizing an auto-ethnographic approach to his work Stovall explores his relationships with others through figurative painting devoid of superfluous detail. By including powerful, yet minimal signifiers such as colour and silhouettes he evokes questions about the perception of space we inhabit, the people around us, and the relationships we form with others.
Stovall's paintings ask the viewer to consider how a lack of visual information can bring about a deeper understanding of one's position in life. Playing with the push-and-pull between presence and absence he investigates how concealing and revealing significant forms of information can alter our experience of his work.
Jason Stovall received his BFA from the University of Alberta in 2012, and is currently an MFA candidate at Western University, London Ontario.
Thin Skin is organized by McIntosh Gallery in collaboration with Western University's Department of Visual Arts MFA program. We acknowledge with gratitude the financial support of the Social Sciences and Humanities Research Council of Canada, the Canada Council for the Arts and the Ontario Arts Council.