Graduate Colloquium: E. Abrams Ansari, J. Martinez Lorenzana
Date:
Friday, December 1, 2023
Location:
Music Building (MB)
Room: Studio 242

Export: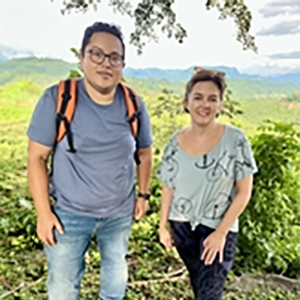 Presented by Graduate Studies in Music, the Don Wright Faculty of Music Graduate Colloquium series includes lectures by distinguished guests, Western faculty members, and senior graduate students on all fields of research and creative activity in music.
Emily Abrams Ansari and Joel Martinez Lorenzana (Western University)
"Music and Healing in Post-Civil War El Salvador: The Possibilities of Student-Faculty Collaboration in the Humanities"
All are welcome to attend. No advance registration or tickets required. End times are approximate.
Abstract
In this talk we offer an informal overview of our research on the music of civil war and post-civil war El Salvador, which engages approaches from musicology, music education, the digital humanities, and ethnomusicology, and discuss grad student-faculty collaboration.
First, we lay out the various projects involving music that we are working on together and with others as part of the large team project "Surviving Memory in Post-Civil War El Salvador" (PI Amanda Grzyb, FIMS), which is funded by Western University and a $2.5 million SSHRC Partnership Grant. These projects include music education initiatives, a digital archive of songs from the war, and studies of individual musicians, post-war music programs, and the uses of music during the war and at present-day commemorative events.
We will then discuss our experiences of working collaboratively with each other and others in the "Surviving Memory" team. True collaboration between graduate students and faculty is still relatively rare in the humanities. Large interdisciplinary collaborative grants like the SSHRC Partnership grant, however, encourage the meaningful engagement of "Highly Qualified Personnel," as SSHRC calls students and other trainees, in the research process. We hope, finally, to lead a discussion with those present about what this more science-style approach to research might mean for graduate student training in the Humanities.
Event Type:
Audience: