SASAH Speakers' Series: Summer Bressette
Date:
Thursday, December 2, 2021
Export: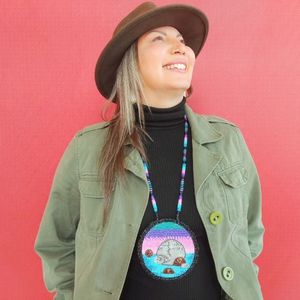 Summer Bressette is Anishinaabe from Kettle and Stony Point First Nation – She is strongly rooted in her family and community stories and has worked as an artist/storyteller for nearly ten years. She completed her Masters degree in Indigenous Education at Western University in 2013 and in 2015. She was an invited presenter to the 7th Annual Healing Our Spirit Worldwide Conference in New Zealand.
Summer is an educator, curator and new playwright. Her first play "Love Song for the Thunderbirds" debuted at the Grand Theatre in October 2021. Summer currently works for the London Arts Council and also co-curated an exhibit for Museum London and the Lambton Heritage Museum called "Nnigiiwemin – We Are Going Home" to commemorate the 25th Anniversary of the Ipperwash Crisis.
Summer is excited to share her love of storytelling and inspire others to follow their curiosity. For Summer, storytelling is a way to connect with community and build kinship, to decolonize education, and to centre Indigenous ways of doing and seeing.