Visual Arts Open Studios & Graduate Symposium
Date:
Thursday, March 30, 2017
Location:
John Labatt Visual Arts Centre (VAC)

Export: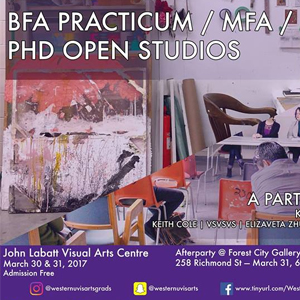 Get a behind the scenes look in to our undergraduate and graduate art studios. Meet the artists, see their artwork! This event is open to the public!
March 30 & 31 the Department of Visual Arts invite you to the 2017 BFA Practicum/MFA/PhD Open Studios and Graduate Symposium.
Entitled "Community: A Participatory Art Conference", the symposium will focus on what defines a community, how they might be different and how artists might contribute to and shape communities.
Join us for a keynote presentation, breakout sessions, graduate student presentations and open studios.
Schedule Overview:
Thursday March 30
5 – 9pm: BFA Practicum / MFA / PhD Open Studios
7 – 8:30pm Art Now Talk featuring VSVSVS

Friday March 31
12pm – 6pm: BFA Practicum / MFA / PhD Open Studios
10am – 12:30pm: MA Presentations
12:30 – 1:30: Lunch and Concourse Gallery
1:30 – 2: Jessica Cappuccitti (UWO): "Rui(N)ation: Narratives of Art and Urban Revitalization in Detroit"
2 – 2.30: Jill Clair from East Village Arts Collective
2:30 – 3:15: Breakout Session - Collectively Designed Community Spaces
3:15 – 3:30: Break
3:30 – 4: Elizaveta Zhurkovskaya (OCADU): "It Is All Made Up of Stories"
4 – 4:45: Breakout Session - Storytelling as Community Building
4:45 – 5: Break
5 – 5:45: Keith Cole, Keynote Speaker
6:30: Bus returns to Toronto
6 – 9: After Party at Forest City Gallery
For a full schedule visit tinyurl.com/WesternUVisArtsGrads
Event Type:
Audience: