Black History Month with Marisa Rosa Grant
Date:
Wednesday, February 23, 2022
Location:
Online via Zoom

Export: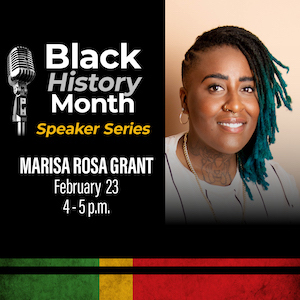 Title of Talk: Reflections on Black Queerness: Joy, History and Significance
Western's EDI Office and the Faculty of Information and Media Studies are thrilled to share Performer Marisa Rosa Grant with our campus and community. Black queer joy and liberation are pivotal pieces of black History. Grant will share their personal stories of blackness and queerness along with the stories of black queer pioneers that have paved the way!