Black History Month with Dr. Andrew Campbell
Date:
Thursday, February 3, 2022
Location:
Online via Zoom

Export: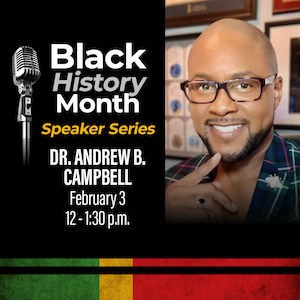 Title of Talk: Black Excellence 365: Sustaining and Thriving in Academia
The EDI Office and the Faculty of Ed. are delighted to host Dr. Andrew B. Campbell to discuss celebrating Black excellence in education.
Stories of Black Excellence are still playing in "limit Edition." We have so many stories from deficit lens that whenever we tell stories from asset-based or strength-based narratives, it comes as a surprise in those spaces. Though resisted, suppressed, excluded, ignored, suffocated, and maligned in many spaces, Black Excellence has continually resisted and flourished – often like a plant growing in concrete.
I examine the need to acknowledge, honour, establish and preserve Black excellence within our universities. The need to engage in brave conversations about the barriers in academia, the work needed to disrupt and dismantle anti-Black racism and the ways in which we can foster change through intentional actions so that we can truly say to our Black members – I SEE YOU!