Riverfest Closing Ceremony
Date:
Tuesday, September 27, 2022
Register by:
Tuesday, September 27, 2022
Location:
John Labatt Visual Arts Centre (VAC)
Room: Cohen Commons, main floor
1151 Richmond St
London, ON
Export: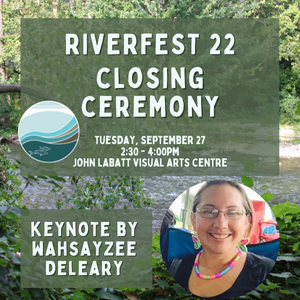 Join us for the Riverfest Closing Ceremony on Tuesday, September 27 from 2:30 - 4:00pm in John Labatt Visual Arts Centre.
The ceremony will feature the Riverfest Art Exhibit in Cohen Commons with a Ribbon Grid and photography submissions crowdsourced from the campus community, along with a visual arts student project inspired by the prompt Wish on Water under the guidance of Professor Soheila Kolahdouz Esfahani.
Guests will be invited to enjoy the art exhibit, connect with Riverfest organizers and participants across campus, while enjoying refreshments from Great Hall Catering.
A keynote presentation will be delivered by Wahsayzee Deleary. Wahsayzee is an Anishinabekwe from Oneida Nation of the Thames and Deskaan Ziibii (Chippewa of the Thames First Nation) as well as Kitigan zibi Anishinanbeg First Nation. Wahsayzee's lineage on her fathers side is Pottawatomi, Ojibway, and Otomi. From her mothers lineage she is Algonquin, and French/German. Wahsayzee is Midewewin, and a member of the Three Fires Midewewin Lodge. She is Loon Clan, and is a mother and grandmother. She has been advocating for water and teaching about Anshinabe knowledge and lifeways for a majority of her life. She believes that this knowledge must be passed into the future and is a part of her life's purpose to do that work. Wahsayzee has spent over 20 years in the fields of education and health and has begun a new career path in the area of child welfare.
Event Programme
2:30 - Arrival, art exhibit, refreshments served

2:45 - Opening remarks

3:00 - Keynote presentation, Wahsayzee Deleary

3:30 - Concluding remarks

3:45 - Networking, art exhibit, refreshments served

4:00 - Conclude