Notes from The Mess Drawer | Cohen Commons
Date:
Thursday, September 12, 2019
Location:
John Labatt Visual Arts Centre (VAC)
Artlab Gallery

Export: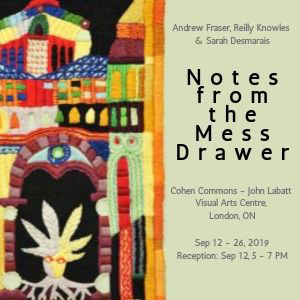 Participating Artists: Andrew Fraser, Reilly Knowles and Sarah Desmarais

September 12-26, 2019
Opening Reception: Thursday, September 12 from 5-7pm

The home is a sacred environment; an entity which is filled over time with imprints of existence. Each one is unique, encompassing the traditions and memories which make it valuable to each generation who lives there. The home holds energies that shape individuals and oppress them; it tells tales of long-lingering magic and superstition that linger through time. "Notes from The Mess Drawer" is an exploration of the magical and supernatural aspects of the home and the domestic, and how these connect with liberating and oppressive forces. The audience is invited to uncover the secrets hidden within the metaphysical mess drawer - the eclectic accumulation of a home.