NTBD: not to be determined | Artlab Gallery
Date:
Thursday, November 1, 2018
Location:
John Labatt Visual Arts Centre (VAC)
Artlab Gallery

Export: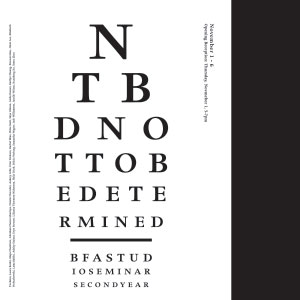 Not to Be Determined is an exhibition by the students currently in the second-year studio seminar. It showcases two major projects they have worked on individually and collectively throughout the semester.
In the Cohen Commons, the class is presenting their collective derivé. In this project, each student created responses to their immediate environment through immersion and spontaneous observation–attempting to pay attention to unexpected and overlooked aspects of their environment. Afterward, the class came together to develop these individual ideas and approaches into a collective derivé that engages with a vast and varied range of mediums and materials.
In the Artlab Gallery, the students are exhibiting their individual collection display projects. Each student was asked to freely interpret and define the idea of a collection, work with freely chosen materials and mediums, and develop means for the display of their collection. Through the creation of these collections and their displays, the students have engaged with a rich variety of conceptual and material experiments.

Exhibition Dates: November 1- 6, 2018
Opening Reception: Thursday, November 1 from 5-7pm