Art Now! Presents: Scott McGovern
Date:
Thursday, March 1, 2018
Location:
North Campus Building (NCB)
Room: 113

Export: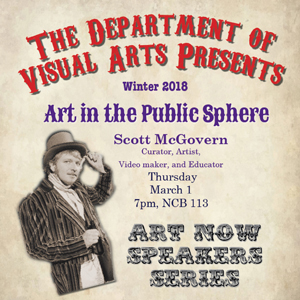 Art Now! Speakers' Series Presents Art in the Public Sphere Winter 2018
With Special Guest Scott McGovern, Curator, Artist, Video maker, and Educator
Scott McGovern is a curator, artist, video maker, and educator. He studied video at the Ontario College of Art and Design. Since 2005 he has been the program director at Ed Video Media Arts Centre, an artist run centre in Guelph, Canada, where he has facilitated over 150 exhibitions, events, and concerts. He has curated exhibitions at artist run centres, museums, and art fairs in Canada, USA, Mexico, England, Sweden, France, and Greece.
The Department of Visual Arts at Western University is pleased to present the Art in the Public Sphere series of speakers and exhibitions. This important series provides unique opportunities to engage with local, national, and international artists, curators, and scholars. All events hosted at Western University are free and are open to the public. The Winter 2018 series is organized by Prof. Colin Carney as part of on-going academic offerings at the Department of Visual Art at Western University.
Most of the lectures are held at 7pm in the North Campus Building, room 113 except for the Jessica Patricia Kichoncho Karuhanga Artist Lecture Thursday, March 15 6:30pm-7:15pm at Museum London & the Opening Reception at McIntosh Gallery for "If You've got It Flaunt It" with Allyson Mitchell January 25. Please consult the Western Calendar for updates.