Art Now! Presents: Andrew Hunter
Date:
Thursday, February 8, 2018
Location:
North Campus Building (NCB)
Room: 113

Export: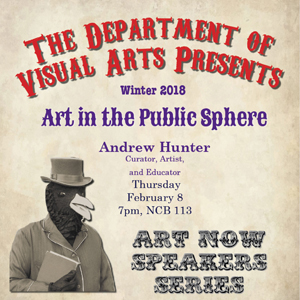 Art Now! Speakers' Series Presents Art in the Public Sphere Winter 2018
With Special Guest Andrew Hunter, Curator, Artist and Educator
Andrew Hunter was the former Frederik S. Eaton Curator of Canadian Art, at the Art Gallery of Ontario. He has previously held curatorial positions at the Vancouver Art Gallery, Art Gallery of Hamilton, Kamloops Art Gallery, and University of Waterloo (RENDER). Hunter was Adjunct Curator at the McMichael Canadian Art Collection and Charlottetown's Confederation Centre Art Gallery. He has taught at OCAD University, the University of Waterloo (Faculty of Arts and School of Architecture) and lectured on curatorial practice internationally. As an artist and independent curator, Hunter has exhibited widely, including solo projects at the National Gallery of Canada; Dubrovnik Museum of Modern Art, Croatia; The Rooms Art Gallery, Newfoundland; and the Walter Phillips Gallery, Banff Centre. From 2009 – 2013, he collaborated with Lisa Hirmer on the creative research project DodoLab. Hunter is known for his innovative use of collections and for positioning art within a wider social, historical and cultural context. He has consistently blurred the boundaries of artist/curator/educator and has emphasized community engagement, narrative and character-based performance in his work. Hunter firmly believes that galleries and museums need to be more present and active in engaging critical, contemporary issues including the state of the environment and social justice.
he Department of Visual Arts at Western University is pleased to present the Art in the Public Sphere series of speakers and exhibitions. This important series provides unique opportunities to engage with local, national, and international artists, curators, and scholars. All events hosted at Western University are free and are open to the public. The Winter 2018 series is organized by Prof. Colin Carney as part of on-going academic offerings at the Department of Visual Art at Western University.
Most of the lectures are held at 7pm in the North Campus Building, room 113 except for the Jessica Patricia Kichoncho Karuhanga Artist Lecture Thursday, March 15 6:30pm-7:15pm at Museum London & the Opening Reception at McIntosh Gallery for "If You've got It Flaunt It" with Allyson Mitchell January 25. Please consult the Western Calendar for updates.