Art Now! Presents: James Patten
Date:
Thursday, January 18, 2018
Location:
North Campus Building (NCB)
Room: 113

Export: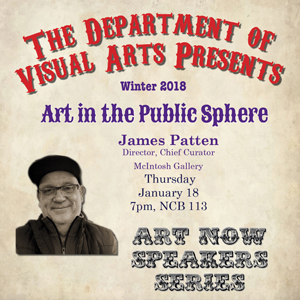 Art Now! Speakers' Series Presents
Art in the Public Sphere Winter 2018
With Special Guest James Patten, Director, Chief Curator McIntosh Gallery, Western University
Thursday, January 18, 7pm, NCB 113
James Patten is director and chief curator at McIntosh Gallery, Western University. Since 1986 he has held curatorial positions in various Canadian art galleries, including the Art Gallery of Windsor, Winnipeg Art Gallery and Museum London. He has produced exhibitions and publications on contemporary Canadian and international artists, including solo projects with Ed Pien, Kelly Wood, Jason McLean, Adrian Norvid, Janet Werner, Marcel Dzama, David Claerbout, Ron Terada, David Mabb, Willie Bester, Kim Moodie, David Merritt, Sheila Butler, Gerald Ferguson, Kelly Mark, Shelley Niro, Carlo Cesta, and Carl Beam. His group exhibitions include Home Show, featuring Sam Taylor Wood, Jamelie Hassan, and Jeff Wall (Winnipeg Art Gallery, 2004), and Young Contemporaries, which included Steven Shearer, Taras Politaiko, Yoko Takashima, Ron Terada, Germaine Koh, and David Hoffos (Museum London, 1996). Patten read for a B.A. at the University of Toronto and an M.A. in art history from McGill before completing curatorial internships at the Art Gallery of Ontario and the Metropolitan Museum of Art.
The Department of Visual Arts at Western University is pleased to present the Art in the Public Sphere series of speakers and exhibitions. This important series provides unique opportunities to engage with local, national, and international artists, curators, and scholars. All events hosted at Western University are free and are open to the public. The Winter 2018 series is organized by Prof. Colin Carney as part of on-going academic offerings at the Department of Visual Art at Western University.
Most of the lectures are held at 7pm in the North Campus Building, room 113 except for the Jessica Patricia Kichoncho Karuhanga Artist Lecture Thursday, March 15 6:30pm-7:15pm at Museum London & the Opening Reception at McIntosh Gallery for "If You've got It Flaunt It" with Allyson Mitchell January 25. Please consult the Western Calendar for updates.