Art Now! Presents: Deirdre Logue and Allyson Mitchell
Date:
Thursday, January 25, 2018
Location:
North Campus Building (NCB)
Room: 113

Export: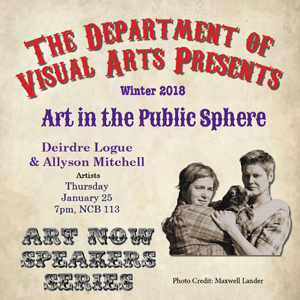 Deirdre Logue & Allyson Mitchell, Artists
Thursday, January 25, 7pm, NCB 113
NOTE LOCATION of Opening Reception at McIntosh Gallery for
"If You've got It Flaunt It" with Allyson Mitchell
January 25, 2018 - March 24, 2018
Allyson Mitchell
'Deep Lez', Allyson Mitchell's ongoing aesthetic/political project advocating a strategic return to the herstories of radical and lesbian feminisms, has been the subject of dialogue within queer and trans communities in recent years. This ethic has caused a stir with activists and artists alike in a range of venues from living room potlucks and academic conferences to public galleries and museums. Mitchell is a maximalist artist working in sculpture, performance, installation and film. Her practice investigates contemporary sexuality and queer feminist identity, largely through the use of abandoned craft. These articulations have resulted in a coven of lesbian feminist Sasquatch monsters, a room-sized Vagina Dentata, most recently, Killjoy's Kastle: A Lesbian Feminist Haunted House. Mitchell also performed actively with the fat performance troupe 'Pretty Porky and Pissed Off', which she co-founded in 1997.
Deirdre Logue
Film and video artist Deirdre Logue has been making intimate performances for the camera since 1995. Suspended in a queer temporality, these private tests made public, resist syntactic language and strive to communicate what it means to be a body; symptomatic, non-linear and hyper corporeal. Her recent video art installations experiment with vibration to engage questions of access, privilege and ability. Her work is informed by DIY feminist aesthetics, her work on large-scale performance art projects, her commitment to working in the rape crisis and women's shelter system, and her 25 years dedicated to artist run culture, social justice and artists rights. Deirdre directs the F.A.G Feminist Art Gallery with her partner Allyson Mitchell.
The Department of Visual Arts at Western University is pleased to present the Art in the Public Sphere series of speakers and exhibitions. This important series provides unique opportunities to engage with local, national, and international artists, curators, and scholars. All events hosted at Western University are free and are open to the public. The Winter 2018 series is organized by Prof. Colin Carney as part of on-going academic offerings at the Department of Visual Art at Western University.
Most of the lectures are held at 7pm in the North Campus Building, room 113 except for the Jessica Patricia Kichoncho Karuhanga Artist Lecture Thursday, March 15 6:30pm-7:15pm at Museum London & the Opening Reception at McIntosh Gallery for "If You've got It Flaunt It" with Allyson Mitchell January 25. Please consult the Western Calendar for updates.