Ecocreativity
Date:
Tuesday, November 28, 2017
Location:
John Labatt Visual Arts Centre (VAC)

Export: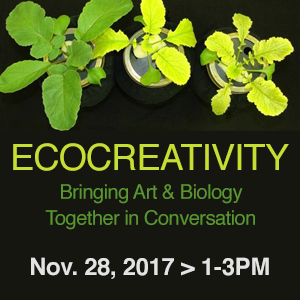 Ecocreativity: Bringing Art & Biology Together in Conversation
Followed by a tour of Western's Biotron (Advance sign-up required for tour)


Tuesday Nov. 28th from 1-3pm

Dr. Sheila M. Macfie and Dr. Danielle Way, Department of Biology, whose research focuses on plant responses to global change will present their work at the Artlab Gallery. After the talk an organized tour of Western's Biotron will take place. The Biotron plant modules are 'experimental facilities focused on the elucidation of the molecular mechanisms by which photosynthetic organisms as diverse as crop plants, conifers, green algae, and cyanobacteria adjust to climate change'.
PLEASE Note: Advance sign-up is required for the tour. Space is limited to 12 people.
Contact: Christina Battle at cbattle@uwo.ca to take sign up for the tour.