Write Now! Presents: Aaron Tucker
Date:
Wednesday, December 6, 2023
Location:
University College (UC)
Room: Conron Hall 3110

Export: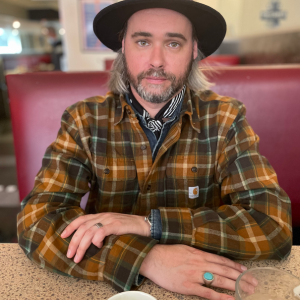 Aaron Tucker is the author of three books of poetry, two scholarly film monographs, and two novels, including his most recent, Soldiers, Hunters, Not Cowboys with Coach House Books, published June 6th, 2023. His essay "A Cowboy's Work" was longlisted for the 2022 CBC Non-Fiction Prize and is part of a work-in-progress collection of essays. In terms of his scholarly work, Tucker's dissertation "The Flexible Face: Unifying the Protocols of Facial Recognition Technologies" was defended March 2023 and studied the cinema of facial recognition technologies and their impacts on citizenship, mobility, and crisis, receiving the Governor General's Gold Medal. During his graduate studies he was an Elia Scholar, a VISTA doctoral Scholar, and a 2020 Joseph-Armand Bombardier doctoral fellow; in addition, his graduate writing has won the Film Studies Association of Canada Graduate Student Essay Prize as well as the The Ian Lancashire Promise Award at The Canadian Society for Digital Humanities. In September 2023, he began a SSHRC post-doctoral position at the University of Toronto in the Faculty of Information recreating the Canadian history of artificial intelligence as a techno-national project.
About Write Now!
This talk is part of Writing 2520A (Write Now! - Writers on Writing) offered by the Department of English & Writing Studies at Western University. Writing 2520A is organized around a series of lectures by writers. Every week, a new writer visits the class to read from their work, talk about their writing and their career, and answer questions. Guest lectures are open to Western students, staff and faculty.
For more information please visit: www.uwo.ca/writing.
Everyone is welcome!