Write Now! Presents: Paola Ferrante
Date:
Wednesday, November 29, 2023
Location:
University College (UC)
Room: Conron Hall 3110

Export: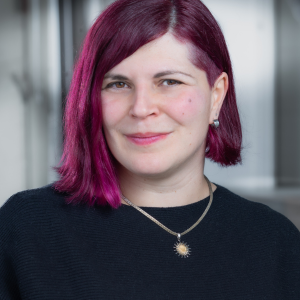 Paola Ferrante is a writer living with depression. She is the author of the short fiction collection Her Body Among Animals, which was released Fall 2023 by Book*hug Press, as well as the poetry collection What to Wear When Surviving a Lion Attack from Mansfield Press, which was shortlisted for the Gerald Lampert Memorial Prize. She has won Grain Magazine's Short Grain Contest for Poetry, The New Quarterly's Peter Hinchcliffe Short Fiction Award, Room Magazine's Fiction Contest, and was longlisted for the 2020 Journey Prize. Her work appears in After Realism: 24 Stories for the 21st Century, Best Canadian Poetry 2021, North American Review, PRISM International, The /tƐmz/ Review and elsewhere. She resides in Toronto with her partner Mat and their son.
About Write Now!
This talk is part of Writing 2520A (Write Now! - Writers on Writing) offered by the Department of English & Writing Studies at Western University. Writing 2520A is organized around a series of lectures by writers. Every week, a new writer visits the class to read from their work, talk about their writing and their career, and answer questions. Guest lectures are open to Western students, staff and faculty.
For more information please visit: www.uwo.ca/writing.
Everyone is welcome!