Write Now! Presents: Daniel Scott Tysdal
Date:
Wednesday, November 30, 2022
Location:
University College (UC)
Room: Conron Hall 3110

Export: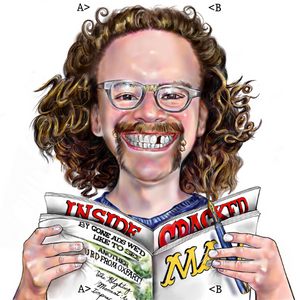 Daniel is a writer, filmmaker, and teacher. An Associate Professor, Teaching Stream, at the University of Toronto Scarborough, Tysdal's works include the ReLit Award-winning poetry collection Predicting the Next Big Advertising Breakthrough Using a Potentially Dangerous Method, the critically acclaimed Fauxccasional Poems, the short story collection Wave Forms and Doom Scrolls, the poetry textbook The Writing Moment: A Practical Guide to Creating Poems, and the viral TEDx talk, "Everything You Need to Write a Poem (and How It Can Save a Life)." Tysdal's short films have screened internationally, earning him several honours, including Best Experimental Short Film at the Arizona Underground Film Festival and a nomination for Best Experimental Short Film at the Yorkton Film Festival. The End Is in the Middle is his fourth collection of poetry.
About Write Now!
This talk is part of Writing 2520A (Write Now! - Writers on Writing) offered by the Department of English & Writing Studies at Western University. Writing 2520A is organized around a series of lectures by writers. Every week, a new writer visits the class to read from their work, talk about their writing and their career, and answer questions. Guest lectures are open to Western students, staff and faculty.
For more information please visit: www.uwo.ca/writing.
Everyone is welcome!