Write Now! Presents: Lillian Allen
Date:
Wednesday, November 23, 2022
Location:
University College (UC)
Room: Conron Hall 3110

Export: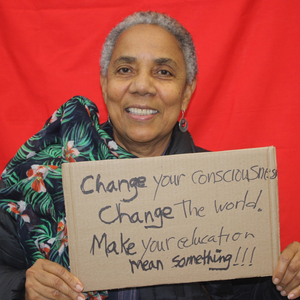 Lillian is a professor of creative writing at Ontario College of Art and Design University (OCAD). Two time JUNO Award winner and trailblazer in the field of spoken word and dub poetry, Allen artistically explores the aesthetics of old and new sounds in music to create her distinctive leading edge brand of Canadian reggae with new world sounds in her poetry recordings, with her powerful reggae dub poetry/spoken word recordings including her latest single Woken & Unbroken (2018), album ANXIETY (2012), her groundbreaking first solo Juno awardwinning album Revolutionary Tea Party, a Ms. Magazine Landmark Album, followed by another Juno winner, Conditions Critical. Her third album, Freedom & Dance and her recording for children and young people, Nothing But a Hero, were released to critical acclaim.
Allen's debut book of poetry, Rhythm An' Hardtimes became a Canadian best seller, blazing new trails for poetic expression and opened up the form. Lillian Allen's latest collection Make the World New: The Poetry of Lillian Allen, edited by Ronald Cummings was published in Spring 2021 and is part of the Laurier Poetry Series. Her other collections, Women Do This Everyday and Psychic Unrest are studied across the educational spectrum. Her literary work for young people includes three books: Why Me, If You See Truth, and Nothing But a Hero. Multi-disciplinary and experimental, Allen's creativity crosses many genres including radio, theatre, music and film; as writer, featured artist and producer/director and national radio show host. She co-produced/co-directed Blak Wi Blak, a film documentary on Jamaican dub poet Mutabaruka which premiered at the Toronto International Film Festival.
About Write Now!
This talk is part of Writing 2520A (Write Now! - Writers on Writing) offered by the Department of English & Writing Studies at Western University. Writing 2520A is organized around a series of lectures by writers. Every week, a new writer visits the class to read from their work, talk about their writing and their career, and answer questions. Guest lectures are open to Western students, staff and faculty.
For more information please visit: www.uwo.ca/writing.
Everyone is welcome!