Write Now! Presents: Sydney Warner Brooman
Date:
Wednesday, December 1, 2021
Location:
University Community Centre (UCC)
Room: 56

Export: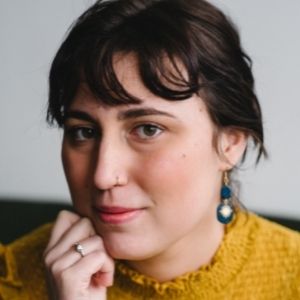 Sydney Warner Brooman (they/them) is a 24-year-old Non-Binary fiction writer, poet, and multimedia artist born in Toronto, Ontario and raised across the lake in Grimsby. They currently live in Toronto, ON with their beloved partner and their French Bulldog Sloan, where they work as a Human Interest Assignment Editor at Diply. Sydney received an Honors Bachelor of Arts in English Literature & Creative Writing from Western University, where they served as Western's Student-Writer-in-Residence (2017/2018), Co-President of the Undergraduate English Society, Editorial Assistant for the Canadian Poetry Project, and Editor-in-Chief of the Slam Poetry publication SNAPS. Their poetry, fiction, and experimental work has been published in American Chordata, The Quarantine Review, Thorn Literary Magazine, Synaeresis Magazine, The Temz Review, Occasus, The Gateway Review, River River, Coffin Bell Journal, The Iconoclast Collective, and Western University's Symposium & Semicolon Literary Journals. Their short story "The Bottom" was shortlisted for The Malahat Review 2020 Open Season Awards. Sydney's debut short fiction collection The Pump is forthcoming with Invisible Books in Fall 2021. They are also the co-creator of the mental health and arts podcast I Go To Therapy and a fiction editor for Patchwork Literary Magazine in Iowa. Their work frequently explores intergenerational trauma, queerness, mental health, and intimacy in all its forms, against the backdrop of Southern Ontario Gothic small-town living. Sydney is a beginner guitar player, a frequent horoscope reader, a liturgy enthusiast, a coffee snob, and a lover of so, so many people, without whom their work would not exist.
About Write Now!
This talk is part of Writing 2520A (Write Now! - Writers on Writing) offered by the Department of English & Writing Studies at Western University. Writing 2520A is organized around a series of lectures by writers. Every week, a new writer visits the class to read from their work, talk about their writing and their career, and answer questions. Guest lectures are open to Western students, staff and faculty.
For more information please visit: www.uwo.ca/writing.