Medieval Studies Speakers' Series: Camino de Santiago
Date:
Tuesday, April 2, 2019
Location:
London Public Library - Central Branch
Room: Stevenson & Hunt Room
251 Dundas St
London , ON
Export: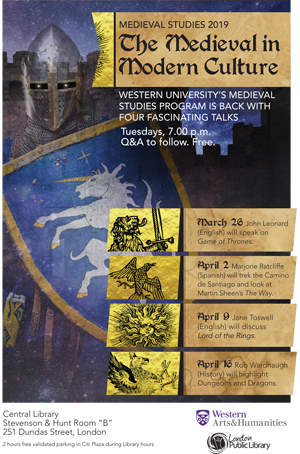 Join Medieval Studies at Western for a lecture series at the Central Library on a variety of exciting topics!
Tuesday, April 2: Prof. Marjorie Ratcliffe (Spanish) will trek the Camino de Santiago and look at Martin Sheen's film The Way
Tuesday, April 9: Prof. Jane Toswell (English) will discuss Lord of the Rings
Tuesday, April 16: Prof. Rob Wardhaugh (History) will discuss Dungeons and Dragons
7 PM at Stevenson & Hunt Room.
All welcome!