Summer Shakespeare:Samson Agonistes with Pre-Show Discussion
Date:
Saturday, August 11, 2018
Location:
International and Graduate Affairs Building
Room: hill located behind building

Cost:
$15 adults; $10 students
Export: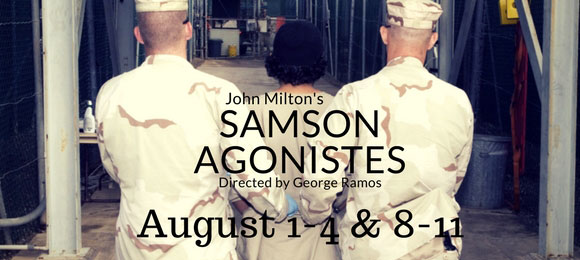 Tragedy, Terror, and Terrorism: A Pre-performance Roundtable Discussion on Western Summer Shakespeare's production of John Milton's Samson Agonistes
Saturday, August 11, 6 PM before the 7 PM performance Outdoors behind the International and Graduate Affairs (IGAB) Building (Rain venue: Room 2B04, Arts and Humanities Bldg.)
Featuring leading Milton scholars Dr. Feisal G. Mohamed (The Graduate Center, City University of New York) and Dr. John Leonard (Western University)
Saturday, August 11 | 7:00 pm *pre-show roundtable begins at 6:00 pm
TICKETS: $15 adults/$10 students and seniors (available at the door)
Some scholars have argued that when Samson destroys the Philistine temple and kills unarmed civilians, he commits a suicidal act of terror. Others have defended Samson, contending that he does God's work in the end. This critical debate was heightened by the 9/11 attacks, which provide an obvious parallel (and contrast) with Samson's miraculous toppling of the twin pillars of the Philistine temple. Join this pre-performance discussion on the ethical complexities in Milton's tragic drama Samson Agonistes and the tragedy (in the full sense of the word) of conflict itself, whether ancient or modern, religious or secular.
Special guest Dr. Feisal G. Mohamed is an award-winning scholar of early modern literature whose research focuses on Milton, post-secularism, political theory, and legal history. Also an essayist, his work has appeared in the New York Times, the Huffington Post, and the New Republic, among others. His book Milton and the Post-Secular Present: Ethics, Politics, Terrorism (Stanford UP, 2011) won the Milton Society of America's prestigious James Holly Hanford Award. He is a professor of English at The Graduate Center, City University of New York.
Presented by the Western Department of English and Writing Studies with the generous support of the Faculty of Arts and Humanities • Free admittance to the roundtable • Tickets for the play: $15 for adults, $10 for students/ seniors (available at the door) • Performance dates/ time: Aug. 1-4 & 8-11, 7PM