Shakespeare and the Theatre of Freedom
Date:
Wednesday, April 26, 2017
Location:
London Public Library
Room: Stevenson Hunt Room
251 Dundas St.
London, ON
Export: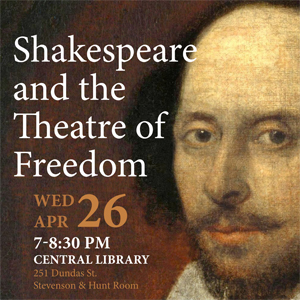 Shakespeare and the Theatre of Freedom
Keynote Symposium lecture by Paul Yachnin

In this talk, Paul Yachnin tells the story of how Shakespeare created a new kind of theatre able to give commoners the freedom to debate and judge matters usually left in the hands of the social elite. The story is not, however, about the untrammeled freedom of theatrical art. It is about how the theatre of freedom was born in one of the most unfree ages in history—an age that began with the Reconquista of the Iberian peninsula and the forced conversion of Spanish Muslims and Jews and that played out across Europe and England in a century of state-sponsored forced conversions of whole populations, including Shakespeare's family and friends. How was Shakespeare able to create a theatre of freedom under such dire conditions? The answer lies in the capacity of Shakespeare's playful art to repurpose conversion itself—from his stories of the "shrew" Katherina in one of his first plays to the "servant monster" Caliban in his last single-authored work
Imagining Religious Toleration 1600-1800 Symposium
Join us for a three-day symposium that will bring nine acclaimed scholars together to investigate the literary aspect of religious toleration. The study of religious toleration in the West has been, for the most part, the purview of intellectual historians and political philosophers. Yet how did literary modes shape cultural understandings of coexistence over the course of two hundred years? The diverse authors we will examine provide access to domains as yet unexplored in debates about the history of toleration. The questions we will ask have an immediate bearing on our understanding of tolerance and liberal democracy in the twentieth and twenty-first centuries.