Indigenous Art as Teacher
Date:
Wednesday, September 20, 2023
Location:
Forest City Gallery
1025 Elias St
London, ON
Export: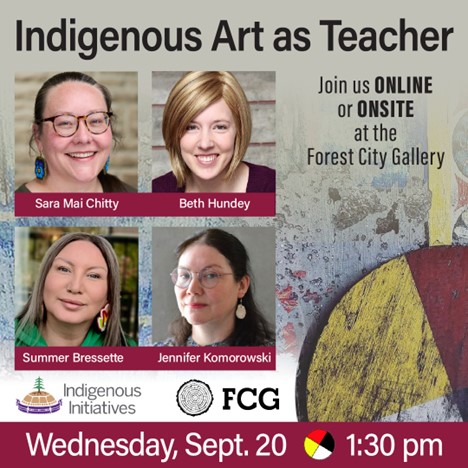 How can we incorporate Indigenous art and art practices into our educational systems to help teachers across the disciplines to Indigenize the curriculum? Join us for our free webinar series as we observe the National Day for Truth and Reconciliation.
The Forest City Gallery, The Public Humanities at Western, and the Office of Indigenous Initiatives at Western are pleased to present "Indigenous Art as Teacher," featuring Sara Mai Chitty (Anishinaabe, Western U), Beth Hundey (Settler-Ally, Western U), Summer Bressette (Anishinaabe, AEI), and Jennifer Komorowski (Oneida, TMU).