Water Walk
Date:
Thursday, September 28, 2023
Time:
10:00 am - 12:00 pm
Location:
Wampum Learning Lodge
Room: WLL Dome

Export: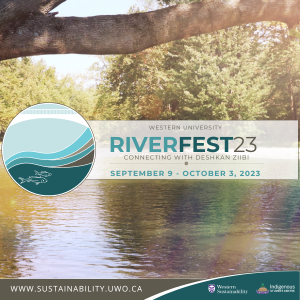 Join the Indigenous Students' Association, Indigenous Student Centre, and Western Sustainability for an Anishinaabe Water Walk.
The event will begin with a water ceremony and talk by Dr. Carol Hopkins, Water Chief of the Three Fires Midewiwin Lodge, and her mother Irene Peters, Grandmother in the Three Fires Midewiwin Lodge, who will share about the origins of Water Walks and the healing nature of them. Water is life, and in this event participants will be encouraged to reconnect with their own personal connection to Deshkan Ziibi as we walk along the river in ceremony.
We will meet in the Wampum Learning Lodge Dome. After the opening, we will walk along the river as a group, led by the Indigenous Students' Association, and our route will bring us back to the Wampum Learning Lodge.
Registration is encouraged. Drop-ins are welcome, but please try to register in advance so we can prepare space/snacks. This event is open to all members of the campus community, Indigenous and non-Indigenous, faculty, staff, and students. We hope to see you there.