Ode to the River Coffeehouse
Date:
Tuesday, September 19, 2023
Location:
John Labatt Visual Arts Centre (VAC)
Room: Cohen Commons

Export: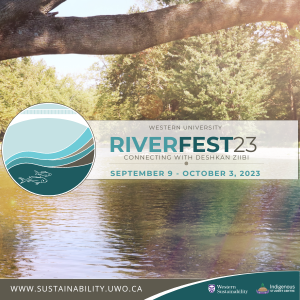 You're invited you to take part in an extraordinary celebration of water at Riverfest 2023 Ode to the River Coffeehouse event. Get ready to dive into the depths of inspiration and hear from different artistic expressions, as we pay tribute to Deshkan Ziibi and the limitless power of water itself.
Riverfest 2023 celebrates Deshkan Ziibi (also known as the Thames River), an integral part of Western's natural heritage. We invite all Western students, faculty and staff to take advantage of this opportunity to cheer on others in a warm, welcoming atmosphere. Indulge with rich hot chocolate, soothing tea, or freshly brewed coffee as you immerse yourself in the captivating performances of fellow friends and acquaintances.