Indigenous Health, Grassroots Activism & Climate Justice
Date:
Tuesday, May 30, 2023
Location:
Wampum Learning Lodge
Room: Gathering Dome

Export: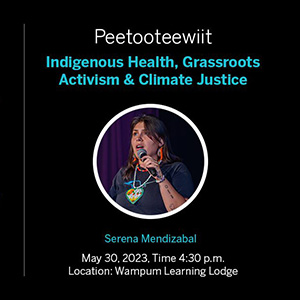 Join this month's Peetootiwiit on May 30: Keeping the health of her people and the Grand River close to her heart, Cayuga-Panamanian community-based researcher Serena Mendizabel strives to engage everyone she meets in thinking differently about their relationship to the land. Through her work with 7Gen Energy, grassroots activism with Protect the Tract, and as a subject matter expert with Western Geography's Connecting for Climate Change Action course, Serena will share her stories and learning on the topics of Indigenous health, grassroots activism and climate justice. This is a hybrid event. Registration on Zoom required. No registration to attend in person!