Confluency Water Justice Art Exhibit
Date:
Saturday, September 9, 2023
Location:
John Labatt Visual Arts Centre (VAC)
Room: Cohen Commons

Export: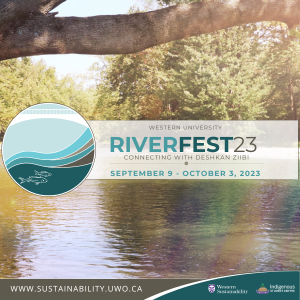 Confluency is an interactive art exhibit linking Canada, South Africa, and broader Africa, while inviting visitors to respond and build on the works as co-creators of knowledge towards water justice. The exhibit showcases creative translations of key themes from the 2023 Confluency conference held in Cape Town, South Africa. To learn more about Confluency visit here or follow @confluency2023 on Instagram.
This fall, the Confluency exhibit is coming to Riverfest 2023! Pieces from the local community that speak to water justice will supplement the Confluency exhibit. The goal of this collaborative exhibition is to raise awareness, spark discussion, and inspire positive change within London and the broader community.
Visit the exhibit at the Cohen Commons in the Visual Arts Centre between September 9th - September 28th.