Pollinator Garden Planting Day
Date:
Thursday, May 26, 2022
Location:
Middlesex College (MC)
the garden is located BEHIND Middlesex College, southeast of the Greenhouses

Export: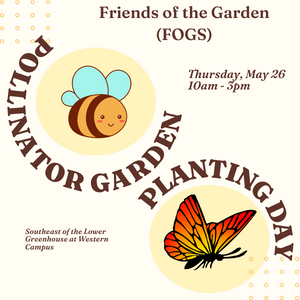 It is with great excitement that we announce the launching of the Pollinator Garden initiative by FOGS – Friends of the Gardens.
FOGS is a group of volunteer gardeners at Western University. The group was founded by Frances Howey (BA'60) 27 years ago. Since then, countless staff members, alumni, graduate students, post-docs, faculty, and community allies have contributed to the cause. Over these years, FOGS has amassed more than $70K in student bursaries, and the group keeps on thriving.
More recently, FOGS started working on the Pollinator Garden project. This is a grassroots initiative that aims to provide nourishing grounds to our local pollinators. The Pollinator Garden will be planted on Thursday, May 26th from 10am to 3pm. BYOT (Bring Your Own Tools). Leftover plants will be available for $2 - $4 (cash only).
Everyone is invited to come plant a few specimens and contribute to creating of a more pollinator-friendly campus. The event is following Western's Covid policies, so masks are required when/where social distancing is not possible.
Come brush up your gardening skills and make a small, yet significant contribution to the local biodiversity.