Visual Arts Open Studios and Graduate Symposium
Date:
Saturday, April 15, 2023
Location:
John Labatt Visual Arts Centre (VAC)

Export: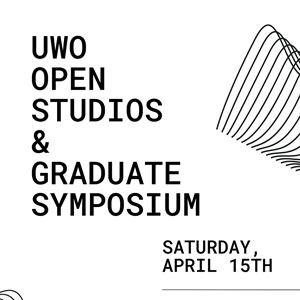 Join us for our first OPEN STUDIOS and Graduate Symposium in three years!

This free event is a wonderful opportunity to come and check out the amazing works of our MFAs and PHDs, see their creative process firsthand, engage in critical discussions around pertinent themes, and wrap off the academic year with a bang! Such a collusion echoes UWO VisArts' exciting and interdisciplinary nature, where the study and practices of studio art, art history, visual culture, and theory combine uniquely.

Commencing at 1pm on Saturday, April 15th, 2023, visit the studios of Steven Debruyn, Brittany Forrest, Phillip Gurrey, Anahí González, Jessica Joyce, Masha Kouznetsova, Sasha Opeiko, Rylee Rumble, and Hannah West. Later in the day, at 5pm, a Graduate Symposium will be held in VAC100 featuring presentations by visual arts scholars Emily Cadotte, Imogen Clendinning, Katie Lawson, Ana Moyer, and Ashar Mobeen. We will be introducing each participant leading up to the event, so keep an eye out to learn more about them!

Come on out and enjoy a day filled with inspiration and creativity! Snacks and refreshments will be provided.