Curating Waste | Cohen Commons Gallery
Date:
Thursday, December 8, 2022
Location:
John Labatt Visual Arts Centre (VAC)
Room: Cohen Commons Gallery

Export: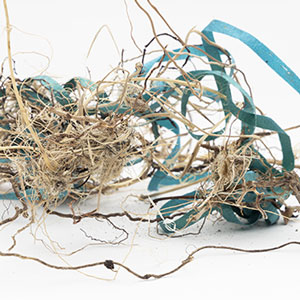 What is waste? This trans-Atlantic encounter between two researchers represents an ongoing conversation about the boundaries between art and waste, a conversation that has seeped into various forms: collections, texts, poems, sound, films, and materials recycled from previous exhibitions.
In dialogue with concepts such as hydrofeminism and environmental (in)justice, the exhibited works trace our expeditions to different bodies of waters, including Deshkan Ziibing, the Rhine, and the Dutch Waal, as well as Lake Huron and the Atlantic Ocean. The individual pieces trace the disturbing presence of human-made plastics at beaches, showcasing materializations of an anthropogenic imprint in so-called "Neptune Balls" (entanglements of human-produced plastic threads and dune grasses). While the collaboration is ongoing, this assembly of texts, sounds, and matter together problematize the persistent politics of waste deeply embedded in both Canadian and Dutch lands.
Funding provided by the Western-Radboud Collaboration Fund and the Centre for Sustainable Curating.
Event Type:
Department: