Art Now! Presents: Hannah Claus
Date:
Thursday, September 17, 2020
Export: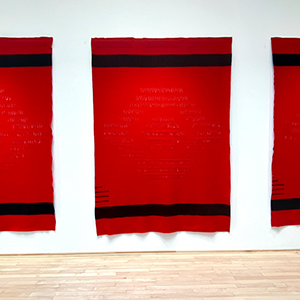 Join us as the Art Now! Speakers' Series welcomes Hannah Claus for an online lecture.
Hannah Claus is a transdisciplinary artist of Kanien'kehá:ka / English heritage who employs onkwehonwené:ha within her artistic practice, to highlight ways of understanding and being in relation with the world. A 2019 Eiteljorg Fellow and 2020 Prix Giverny recipient, recent group exhibitions include Inaabiwin (Ottawa Art Gallery), Future Retrospectives (Harbourfront Gallery; Toronto) and Àbadakone (National Gallery of Canada; Ottawa). Claus' installations belong to various public collections, such as the National Gallery of Canada, the Eiteljorg Museum, North American Native Museum (Zurich, CH), the Musée d'art contemporain de Montréal, Global Affairs and the City of Montreal. Claus is a member of the Board of Directors of the Conseil des arts de Montréal since 2018, and a co-founder of DAPHNE, a new Indigenous contemporary arts centre based in Tiohtià:ke [Montreal]. Claus lives and works in Tiohtià:ke since 2001. She is a member of the Tyendinaga Mohawks of the Bay of Quinte.
image credit: Hannah Claus, Invaders (2019).
The Art Now Speakers' Series is a component of ongoing academic offerings in the Department of Visual Arts at Western University. The Fall 2020 Art Now Speakers' Series will be offered online, via Zoom Webinar.
Links to attend the session and a full list of speakers can be found on the Department of Visual Arts Website at: https://www.uwo.ca/visarts/speakers.html All lectures are free and open to the public.
This series is generously supported by The Faculty of Arts and Humanities.
Event Type:
Audience:
Department: