We Were, And Then We Weren't | Artlab Gallery
Date:
Monday, September 14, 2020
Location:
John Labatt Visual Arts Centre (VAC)

Export: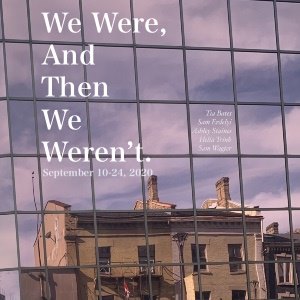 As of September 17th 2020, the Artlab Gallery and Cohen Commons will be operating virtually. In-person visits are not permitted at this time. Please email Ruth Skinner artlab@uwo.ca for additional details.
--
Leaping from the walls and breaching our space
Filling the room Every nook, cranny, and cavity
Becoming
Twisting and pulling itself into allegories
A dual entity.
It became us, and we became it
We were, and then we weren't.
Light is intrinsically connected to darkness. Neither can be understood without experiencing the other. "We Were, and Then We Weren't" uses painting, sculpture, video, installation and mixed media works to represent tangible and intangible allegories for the interactions between aura, memory and light. It draws attention to the relationships of these elements, questioning their ephemerality.
Representing modes of human perception through metaphor, whether visual, profound, or metaphysical, these works create an intertwining web of thought-forms. This web begins to dissolve the physical space into a philosophical one. The immersive presence of light moves outward from the surface of the work, seeping into the material world and representing the aura as a physical space.
Our existence was changed by the light.
Illuminating us amid the darkness, we become something profoundly different than we once were.
Tia Bates, Sam Erdelyi, Ashley Staines, Helia Trinh, Sam Wagter.
Artlab Gallery will be open by appointment only in Fall 2020. Please note non-medical face coverings are required and you will be asked to complete a questionnaire before entering the gallery.
Please contact Ruth Skinner at artlab@uwo.ca to schedule your visit.