MFA Thesis Exhibition: Ramolen Laruan | Zalucky Contemporary
Date:
Friday, August 14, 2020
Location:
Zalucky Contemporary
3044 Dundas St. W.
Toronto, ON
Export: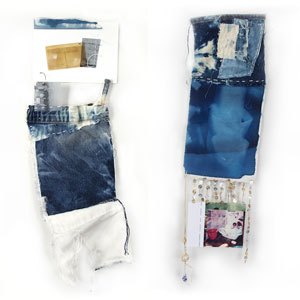 still, unfolding | Ramolen Laruan
August 14- 22, 2020
Western University MFA Thesis Exhibition
Hosted by Zalucky Contemporary
About the Exhibition
Moments, no matter how small, leave hits of existence—as long as there is always movement, even from the abandoned, forgotten, and omitted.
Meanings, practices, and memories are re-inscribed in the diaspora, wherein new forms are re-imagined in the transnational exchange between the land of origin and new host country. Laruan's family immigration to Canada becomes an autobiographical point of departure in examining moments of force in the absences and omissions in collective and personal narratives. Concerned with marginalized methods of research such as family photography, oral histories, popular cultural productions, and domestic work, Laruan examines and offers other possible notions of remembering and collecting, especially by people with broken, forgotten, or lost histories. Incorporating diverse materials such as textile, photography, video installations, drawing, and found objects, still, unfolding digs at scraps in power-inflected spaces of the diaspora to recover traces of unacknowledged past.
By directing attention to overlooked insistence of diasporic people—perhaps in the slight bend of a line, an anomaly in a repeating pattern, the practice of fracture, disruption of sequential flow, perversion of material, incomplete translation, or deliberate forgetting— still, unfolding, considers the endless possibility of arriving.
still, unfolding, Ramolen Laruan's MFA thesis exhibition, is presented by the Department of Visual Arts at Western University.
Gallery Hours & Information:
Friday and Saturday 1-6PM or by appointment
Due to the pandemic and recently announced city by-laws, the gallery will require all visitors to wear masks. The gallery will also limit the number of visitors in the space and adhere to social distancing rules. The washroom will be closed to the public. If you are exhibiting symptoms of COVID-19, we kindly ask you to refrain from visiting the gallery.