Postponed : My Diasporic Family's Living Room
Date:
Saturday, March 28, 2020
Location:
Satellite Project Space
121 Dundas Street
London, ON
Export: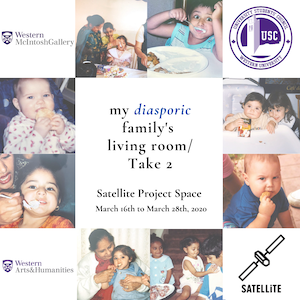 Please note that this event has been postponed. We have made this decision to ensure the health and safety of our visitors and campus community.
Fourth-year undergraduate student in visual arts, Jasmine Sihra, has been completing an internship credit at Satellite Project Space since January.
The exhibition documenting her project My Diasporic Family's Living Room will be open to the public during Satellite's regular hours between March 25th-28th. The closing reception will be held on Saturday, March 28th, 2-5pm.
During the reception, you can paint mugs and learn more about the project. My Diasporic Family's Living Room is presented in partnership with McIntosh Gallery, Western University.
Event Type:
Audience:
Department: