Together We Average As Zero / Take 1
Date:
Thursday, February 27, 2020
Location:
John Labatt Visual Arts Centre (VAC)
Artlab

Export: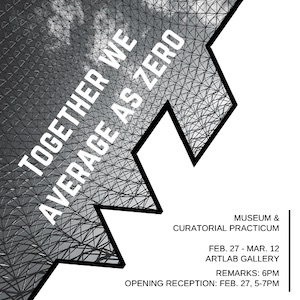 Artlab Gallery February 27 - March 12, 2020
Opening Reception: Thursday, February 27 from 5-7PM

This exhibition responds to a visit that the futurist R. Buckminster Fuller made to London, Ontario, in 1968. Fuller brought to London his concerns for the future, including his belief that humans were using up the earth's resources too quickly. We are all, he suggested, on "little spaceship earth," hurtling through the universe, and must work together to survive. Now, in a moment of climate crisis we ask what future(s) are we planning for today? And how can we work together to move beyond the current impasse? As Fuller said: "Most importantly we have learned that from here on it is success for all or none, for it is experimentally proven by physics that 'unity is plural and at minimum two.' You and I are inherently different and complimentary. Together we average as zero - that is, as eternity."
This exhibition was curated by students in MCS4605E as a precursor to "From Remote Stars: Buckminster Fuller, London, and Speculative Futures," on view at Museum London from May 16 -August 30, 2020. A second phase of "Together We Average as Zero" will be viewable in the Artlab from May 14 – June 11, 2020.
Presented with support from the Department of Visual Arts, the Faculty of Arts and Humanities and McIntosh Gallery, Western University