Art Now! Presents: Erika DeFreitas
Date:
Thursday, January 16, 2020
Location:
North Campus Building (NCB)
Room: 117

Export: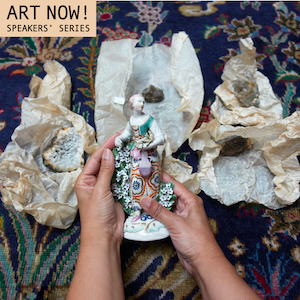 Join us for our first Art Now! talk of the term Thursday, January 16 at 7pm in room NCB117 featuring artist Erika DeFreitas.
Erika DeFreitas is a Scarborough-based artist whose practice includes the use of performance, photography, video, installation, textiles, works on paper, and writing. Placing an emphasis on process, gesture, the body, documentation, and paranormal phenomena, she works through attempts to understand concepts of loss, post-memory, inheritance, and objecthood. DeFreitas' work has been exhibited nationally and internationally. She was the recipient of the TFVA 2016 Finalist Artist Prize, the 2016 John Hartman Award, and longlisted for the 2017 Sobey Art Award. DeFreitas holds a Master of Visual Studies from the University of Toronto.
www.erikadefreitas.com
Image Caption: "She may be moved and they multiplied most in exaggeration. No. 10," digital inkjet print, 28" x 18", 2019
This talk is part of "Art Now!", a course offered by the Department of Visual Arts at Western University. This course focuses on current contemporary art production. All talks are FREE and OPEN to the Public! For more information or to enrol in the course, visit: www.uwo.ca/visarts
Event Type:
Audience:
Department: