Bealart Talks | Artlab Gallery
Date:
Friday, April 26, 2019
Export: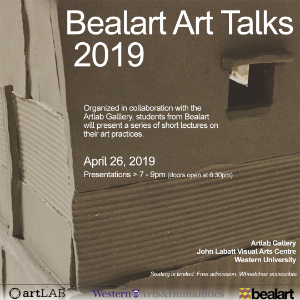 Bealart Talks is an annual event in collaboration with Western University's Department of Visual Arts and ArtLab Gallery. A group of emerging artists will be presenting short lectures on their artistic practices and motivations, with topics ranging from the inherent political qualities within art to an architectural framework of approaching practice.

Selected artists from the Bealart Specials Program speaking during the event include:

Dylan Bodkin
Flynn Brown
Julien Darling-Funk
Bethany DeBoer
Megan Goddard
Monica Joy Peeff
Sydney Karlson

Friday, April 26th, 2019
Doors open at 6pm. Event from 7-9pm
Limited seating. Free entry. Wheelchair accessible.