not bad, considering | Artlab Gallery
Date:
Thursday, September 27, 2018
Location:
John Labatt Visual Arts Centre (VAC)
Room: Artlab

Export: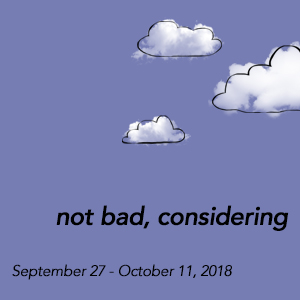 Artlab Gallery at Western University is pleased to present "not bad, considering" the second year MFA fall exhibition. Through material engagements with the digital and handmade, mundane and precious, they have discovered that they are driven by a need to ask increasingly difficult questions for which there may not be definitive answers.
What role do garments play in identity politics? How does one navigate the violent spaces constructed by toxic masculinity? What happens when social aspirations are materialized in veneer? How can we see, and be seen if our vision is mediated by screens? In this exhibition the artists consider how it feels to rummage through basements and unpack closets, peer through thresholds, and step into imagined vistas. not bad, considering what awaits.
With work by MFA candidates:
Kate Carder-Thompson, Johnathan Onyschuk, Lydia Santia & Zhizi Wang
Opening Reception:
Thursday, September 27, 2018
5:00pm - 7:00pm
Exhibition Dates:
September 27 - October 11, 2018