My Planet and Me
Date:
Friday, January 12, 2018
Location:
Aeolian Hall
795 Dundas Street East
London, ON
Export: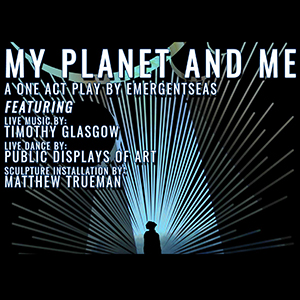 Come out to the historic Aeolian Hall for a show like no other. EmergentSeas (theatre), Timothy Glasgow (music), Public Displays of Art (dance), and Matthew Trueman (current MFA candidateVisual Arts) are set to collaborate for a very special cross disciplinary one night only presentation of "My Planet and Me", a one act play written and performed by Damon Muma, followed by an analog synthesizer performance by Timothy Glasgow. Tickets are only $15!
My Planet and Me is a one-person show written and performed by Damon Muma that follows a disillusioned man who discovers he is communicating telepathically with a sentient planet. It's thoughtful science fiction with a dash of charm and wit, and a heaping helping of humanity. It is directed by Cara Moyer and Kristin Bennet and debuted in June at the 2017 London Fringe Festival to critical acclaim.
Doors open at 7pm Show starts at 8pm
My Planet and Me Trailer: https://www.youtube.com/watch?v=lYFZSF-NJiM
Matthew Trueman's sculptural installations: https://www.youtube.com/watch?v=-I-2dwb9v4I
Event Type:
Audience:
Department: