Quinn Smallboy - Playing a String Game
Date:
Thursday, August 10, 2017
Location:
McIntosh Gallery (MG)

Export: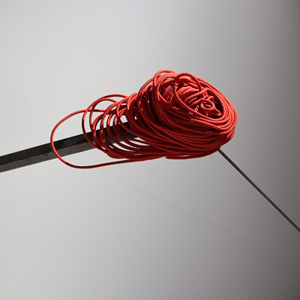 Quinn Smallboy, Playing a String Game, Thesis Exhibition
August 10 - September 9, 2017
Closing Reception: September 8, 5-7 PM
Quinn Smallboy's work explores symbolic images referring to Indigenous cultures. Through shapes and forms, that make up the iconic symbols that surround and are within Indigenous cultures, he approaches art-making by reshaping alternate interpretations. A central material in his sculptural practice is string, which he sometimes uses as an index to culture and identity. As an artist, his aim is to draw attention to the struggles surrounding Indigenous culture and art.
Quinn Smallboy is originally from Moose Factory, Ontario, and member of the Moose Cree First Nation.
Contact:
Mitra Shreeram - Communications and Outreach Coordinator
mshreera@uwo.ca
519.661.2111 ext. 87576
Event Type:
Department: