Representing Wilderness: Community, Collaboration and Artist
Date:
Friday, June 3, 2016
Location:
McIntosh Gallery (MG)

Export: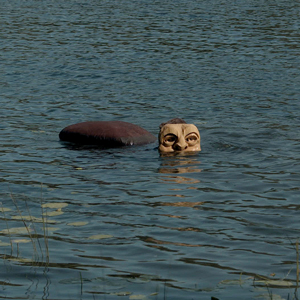 Michael Farnan is a multidisciplinary artist and doctoral candidate at Western University. His research explores Canadian representational history and discourses surrounding colonialism, wilderness, nature and nationhood. Michael's work employs humour, parody and collaboration as tools for critical inquiry and reflection on how we think about relationships to nature.
Farnan's thesis exhibition includes two major video installations, drawing and sculptures. The work highlights many of the tensions and struggles found within visual representations of Canada's iconic landscape, and the local domestic spaces that represent the daily lives of a multiplicity of individual Canadians. Namely through re-enactment of national narratives and a (re)thinking of Nation-to-Nation relationships in Canada between Indigenous and non-Indigenous communities.
The show features a large ink and chalk drawing Group of Seven with Wolf's Head and Study of Dead Hind; two carved wooden transformation masks, Grey Owl/Pierce Brosnan, and Wolf/Kevin Costner; as well as cast plastic sculptures of Boy Scout figurines fighting in a canoe. Alongside this work is the creation of two major video works featuring lead performances by Lori Blondeau and Adrian Stimson; the work of Cinematographers Clark Ferguson and David Hartman; Sound/Recording artists, Jordan Poniatowski and Joel Alain; and Canoe Dancing by William Brims.
The videos, Dance for the Narrows and Pilgrims of the Wild, are a mix of documentary (both fiction and non-fiction), "experimental art video," and epic nature film. In both these films, Farnan is working within and alongside the "margins" of the grand traditions of cinematic and nationalized representations of the Canadian landscape. In the hopes of offering another voice, and an alternate way of seeing, the Canadian wilderness.
Representing Wilderness is organized by McIntosh Gallery in collaboration with Western University's Department of Visual Arts PhD program in Art and Visual Culture. For more information click here.
This research was supported by the Social Sciences and Humanities Research Council of Canada.
June 3rd to June 25th, 2016
Opening reception: June 3rd at 7PM