Tweeting Tales of Life/Death:Cemeteries on Social Media
Date:
Thursday, March 30, 2023
Location:
Lawson Hall
1364 Collingwood Ave
London
Export: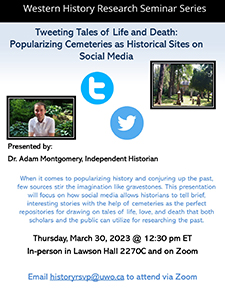 The History Department is welcoming Dr. Adam Montgomery as it's eighth and final Research Seminar Series speaker for 2022/2023! Dr. Montgomery is an independent Historian who's talk will focus on the intesting combination of cemeteries and social media.
Cemeteries and gravestones dot the landscape, even in cities, but many people often pass by them without a second thought. For many, cemeteries are places offering little other than a quaint glimpse at a time now gone, irrelevant places that, in urban areas, are often seen as places taking up much needed development space. But when it comes to popularizing history and conjuring up the past, few sources stir the imagination like gravestones.
Adam's presentation will look at how social media allows historians to tell brief, interesting stories, with cemeteries being the perfect repositories for drawing on tales of life, love, and death that both scholars and the public can utilize for researching the past.
This event will be held both in-person and via Zoom.
Please email historyrsvp@uwo.ca to request the Zoom link.