Dreaming Spires to Bestseller:Jennifer Robson's Journey
Date:
Thursday, March 9, 2023
Location:
University College (UC)

Export: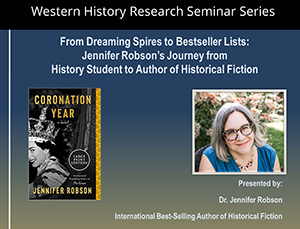 The History Department is welcoming Dr. Jennifer Robson as it's seventh Research Seminar Series speaker. Dr. Robson is an international best selling author of seven books, who will be discussing her time as a student at both Oxford, as well as King's University College.
In her work, Dr. Robson relies upon her experience as an undergraduate at King's, together with the years she spent researching her D Phil in Modern History at Oxford, to ensure her works of historical fiction are as authentic, accurate, and nuanced as possible. In her presentation, Jennifer will discuss her time at King's and at Oxford, and explain how she approaches the planning, research, writing, and editing stages of her work.
This event will be held both in-person in Conron Hall, UC 3110 and via Zoom.
Please email historyrsvp@uwo.ca to request the Zoom link.
Event Type:
Audience: